Lav ELI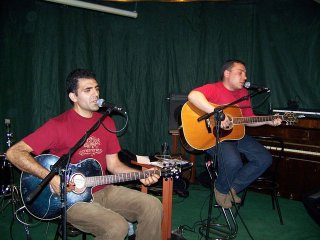 In 1994 in the third biggest city of Armenia, Vanadzor, after the breakup of "Stverner" (shadows), drummer Ashot Chobanyan offered former guitarist Gor Mkhitaryan and Mher Manukyan who made his first steps in the world of music to form a band and called it GAME. The band started to rehearse at once. Mainly the track list of Stverner was used, only a few own songs were added.
In 1995 GAME decided to invite their mutual friend Aleks Avetisyan as a basist. Michael Jay Hammens also joins the band by Ashot's guidance, he was in Vanadzor as a volunteer from peacemaking department of USA. Soon many own works were ready and add to "Stverner"'s track list. On march 11 1995 on the scene of Vanadzor puppet theatre the first concert of the band was held. Ashot presented the band as "Snack". Though the lack of professional performance the concert was hailed well.
LAV ELI
Staff:
• Aleks Avetisyan – bass guitar, vocals
• Gor Mkitarian – lead guitar, vocals
• David Grigoryan – drums
• Mher Manukyan – vocals, lead guitar, harmonica
• Vahe Terteryan – bass guitar (replaced Aleks)
In 1997 Michael Jay Hammes left the band as he had finished his mission and returned to USA, then Ashot Chobanyan also abandoned the band and left for USA. The remains of "Snack" take a new drummer David Grigoryan from "Alk". The name of the band also changed. After many discussions it was called "LAV ELI". The origins of this go to a big humourist Donald Flamerfeld, who whenever heard Armenian phrase lav eli (love Ellie) said that he didn't know who Ellie was and was not going to fell in love with her. Thanks to a grant from peacemaking department in 1997 the band released its first "LAV album". The first "LAV song" (Found you in the sky) remained on the leading positions of Armenian radio charts for a few months.
In 1998 "LAV ELI" participated in "Armenian song festival" and took the 15th place of 300 participants. In 1999 thanks to Artyom Ayvazyan's financial and moral support the "Assay" CD was released.
After the recordings the band left Aleks Avetisyan devoting himself to family life. He was replaced by Vahe Terteryan from the same "Alk". Unfortunately the band hasn't released any mass recordings.